Aug 24, 2020
COVID-19 Doesn't Stop New Olim From Arriving in Israel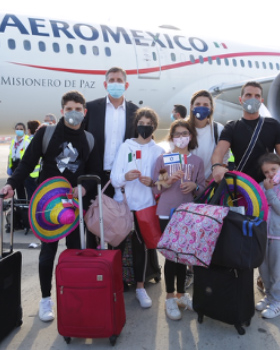 Federation overseas partner, The Jewish Agency for Israel, continues to support aliyah efforts of Jews around the world, this time, with a first-of-its-kind charter flight from Mexico. Taking off from Mexico City, the special flight carried 50 new olim (immigrants), Masa Israel Journey volunteers and dozens of Israelis who have been stranded due to the limited availability of flights during the COVID-19 pandemic. Upon landing, the new arrivals from Mexico began the required two-week quarantine in compliance with Israel's Ministry of Health guidelines and other coronavirus regulations. At the end of their quarantine, the olim will be integrated into local communities and absorption centers throughout the country.
Carlos and Miriam, as well as their four children, were on the flight, dubbed "Operation Home." After visiting Israel last year, they knew they wanted to make aliyah. "Here, I feel truly at home," said Miriam. "In Mexico, we are always viewed as 'those Jews' and never felt safe to go out with a kippah. We knew we would always be a minority."
From the beginning of 2020 through July, The Jewish Agency has facilitated the aliyah of 2,269 olim from Latin America compared with 1,839 during the same period last year, an increase of 23 percent. For Mexico in particular, The Jewish Agency has opened 493 aliyah cases since January, an increase of 32 percent from last year. "Aliyah has never stopped, even during the most difficult crises the State of Israel has experienced," said Chairman of The Jewish Agency Isaac Herzog. "Even now, during a global crisis, Jews from all over the world are realizing the Zionist vision and making their new home in Israel."
Mexico is home to the third-largest Jewish community in Latin America (after Argentina and Brazil) with approximately 50,000 Jews, most of whom live in the country's capital of Mexico City. The Mexican Jewish community is highly organized, maintains close ties with the State of Israel and has an extensive education system featuring Jewish day schools and Zionist youth movements. Yet since the outbreak of coronavirus, many of Mexico's synagogues and other Jewish institutions have closed, while schools and youth movements have moved to virtual operations.
To learn more about Federation's work with Jewish communities around the world click here or contact Director of Israel and Overseas Dahlia Bendavid at dbendavid@gmjf.org.